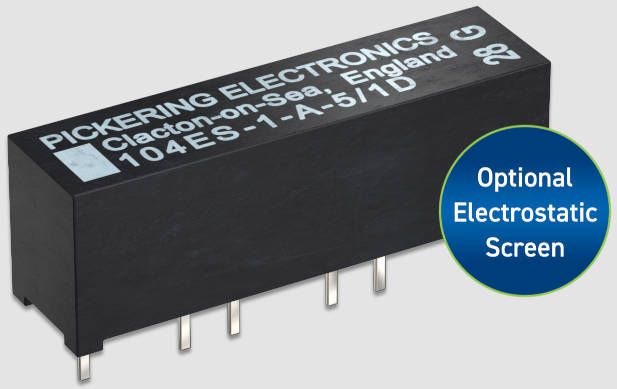 Pickering Electronics has launched electrostatic shielded variants of its high voltage Series 104 single-in-line reed relay family.
The "optional electrostatic shielding between the switch and the coil to help minimise noise between the coil drive and high voltage circuits," according to the company. "This screening is in addition to the internal mu-metal screen which eliminates problems that would otherwise be experienced due to magnetic interaction when devices are closely stacked." – they will stack on a stack on a 6.35mm pitch.
Differentiated by product numbers starting 104ES…' (table left), three types of electrostatically shielded dry (dry = non-mercury) reed relays are available, capable of standing-off 1.5, 2 or 3kVdc (non-shielded 4kV types are also available). "3kV and 4kV versions have an increased clearance between the switch and coil pins to accommodate the higher voltage," said Pickering.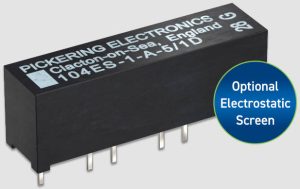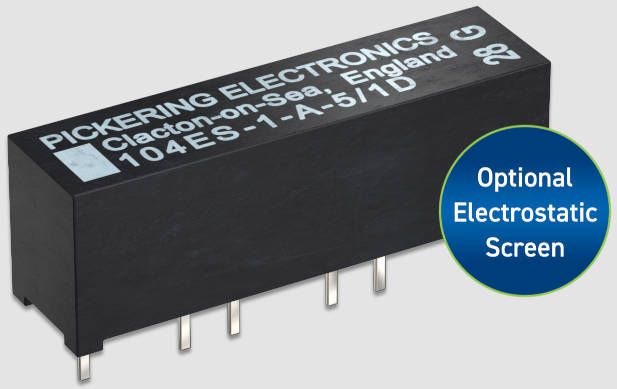 All of the electrostatically shielded relays are single-pole single-throw normally-open types. They have slightly lower coil resistances, and therefore consume more power, than the equivalents without this shielding.
Applications are foreseen in mixed-signal semiconductor testers, automatic test equipment, and control of isolated SCR or triac gates.
Further electrostatic shielded reed relays are in the company pipeline for launch early in 2023.
The company will make custom Series 104 relays, with higher voltage ratings, or with mercury wetting for bounce-free switching – the latter devices are rated at 1.5kVdc minimum stand-off and 500Vdc switching at up to 50W.
Other 104 relays feature 1 Form A, 2 Form A (larger package) and 1 Form B configurations, with an optional internal back-EMF diode.
Pickering Electronics was formed over 50 years ago and is based in Essex. It makes relays in the UK and other countries.