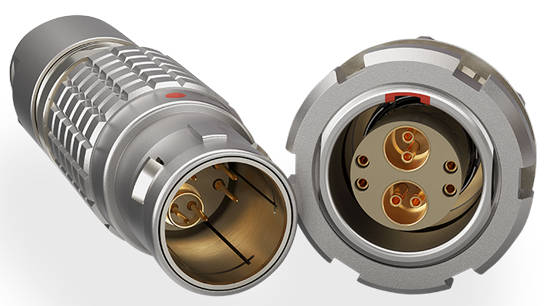 They are available in the company's B, K and T series (see table) for demanding indoor and outdoor environments, for applications in defence, industrial automation, data communication, aerospace, test and measurements.
B Series
miniature
K Series
robust
T Series
miniature
Ingress
IP50
IP66 – IP68
IP66 – IP68
°C
-55 to 250
-55 to 200
-55 to 200
Mating cycles
>5,000
>5,000
>3,000
Keyway choice
12
8
5
There are nine connections: two separately shielded high-speed pairs (with a common shield connection) a power pair and a legacy USB 2.0 pair.

At the same time, it announced a connector pair for IEEE 802.3 single-pair Ethernet ('SPE' or '1000Base-T1') for vehicle and industrial use.
"The emergence of single-pair Ethernet is now driving the adoption of Ethernet in the automotive industry as well as in industrial automation," according to the company. "1000Base-T1 is designed to operate over a single twisted-pair copper cable, supporting an effective data rate of 1Gbit/s in each direction simultaneously. These products are specifically designed to work in demanding environments, for example: extreme temperature, high humidity or high vibtation."
There are two types of insulator: 0B.511 (~9.5mm dia, two contact, compatible with un-shielded twisted pair) and 1B.512 (Not shown, ~12mm diameter, four contacts + three contact in a line between them forming a screen, compatible with shielded twisted pair).
These also come in B, K or T Series, and add to similar earlier connectors for Cat 5e, Cat 6 or Cat 6a.