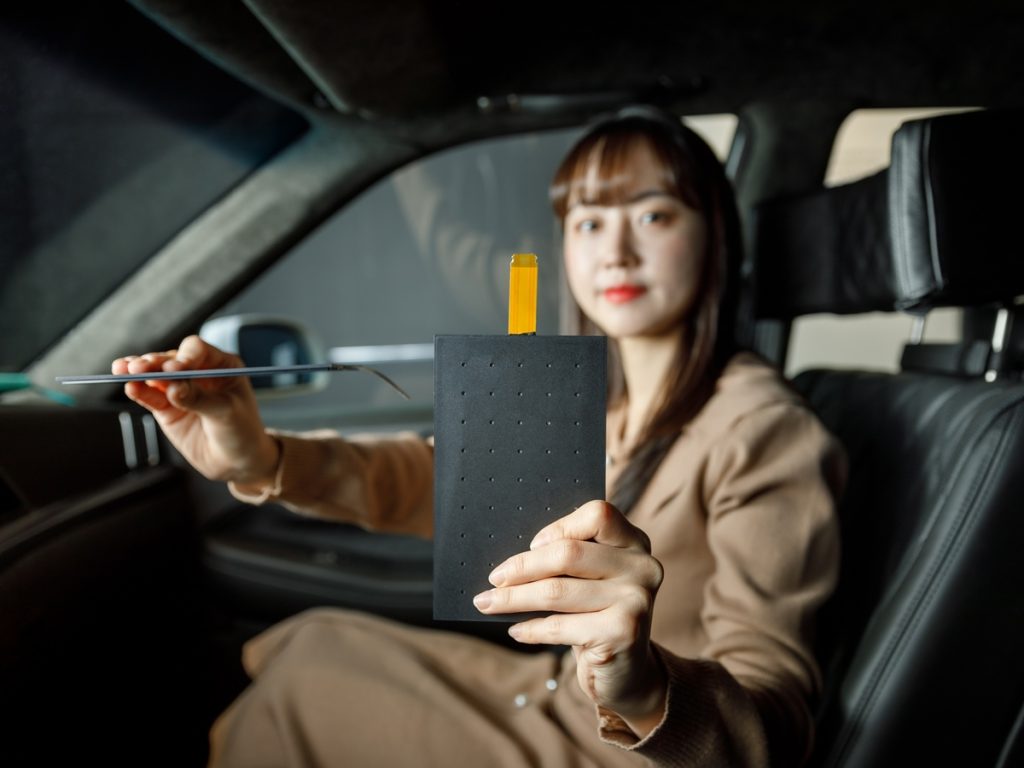 LG Display has announced the development of a new thin Actuator Sound Solution, a new automotive sound technology. This is a light-weight (40g) passport-sized (150mm × 90mm) sound solution that will replace conventional speakers in automobiles while eliminating the use of rare earth elements like neodymium (Nd) that are commonly used in conventional speakers. The company introduced 12″ high-res Stretchable display recently.
It is only 2.5 mm thick and weighs 40 g, accounting for 30% of the weight and 10% of the thickness of a standard car speaker. LG Display's film-type exciter technology is used in the thin and lightweight speaker, allowing it to vibrate off display panels and various materials within the car body to provide a rich, 3D immersive sound experience.
It can be installed in a variety of locations inside the vehicle, including the dashboard, headliner, pillar, and headrests, freeing up space normally occupied by in-car speakers.
According to LG, this speaker solution received the Consumer Technology Association's CES 2023 Innovation Award (in the "In-Vehicle Entertainment & Safety" category) in recognition of its space efficiency, design innovation, sound experience innovation, and eco-friendliness.
This Thin Actuator Sound solution will be commercialised in the first half of 2023 and will be showcased at the CES 2023 in January.
Regarding the announcement, Yeo Chun-ho, Vice President and Head of the Business Development Division at LG Display, said,
We have transformed the conventionally heavy and bulky speaker into a high-quality 'invisible' sound solution by using our cutting-edge technology to elevate space, design, and eco-friendly factors and provide a next-level sound experience like none before.