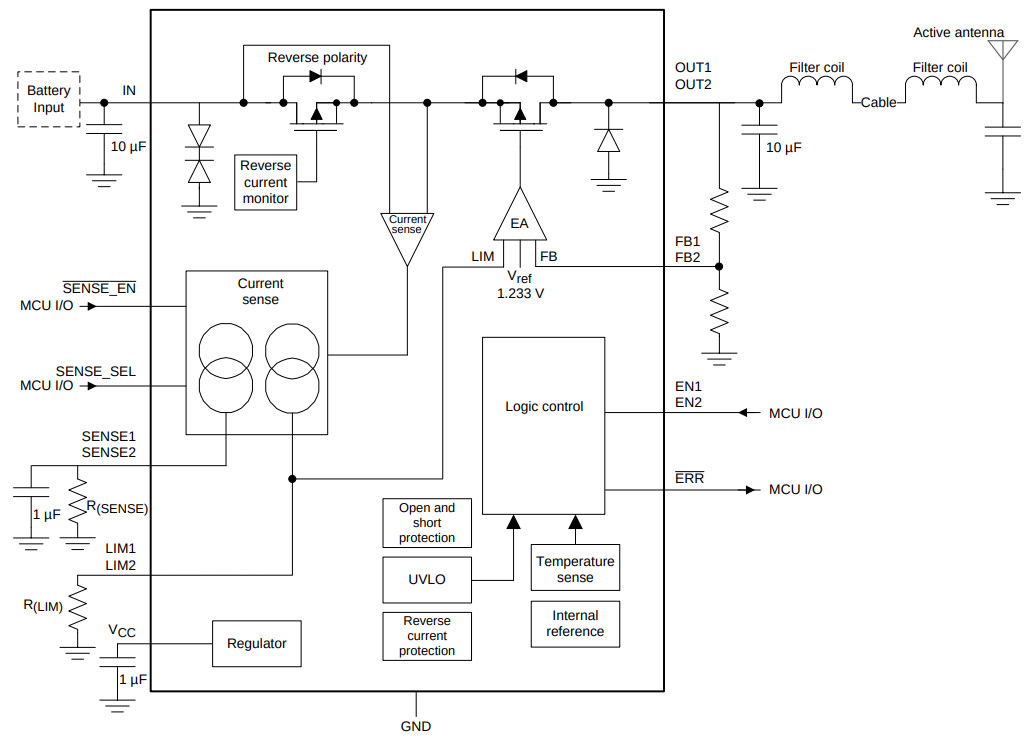 Reverse blocking is useful if a load needs to be supplied from an input with short interruptions in supply – most LDOs will conduct large currents in reverse if they are fed from a low-impedance supply that drops out, with subsequent risk of damage, not to mention draining the output capacitor risking an output brown-out even if the regulator is not damaged.
Adding a diode in series with the input of a normal can help – but the whole thing is no longer an LDO as it has a diode drop added to its nominal drop-out voltage. Some non-LDO regulators naturally have reverse-blocking through having npn pass elements.
Anyway, back to the TPS7B7701-Q1.
It is an automotive (AEC-Q100 qualified) regulator intended to feed power up to antennas with little between it and the vehicle's 12V battery.
As such, it has a 4.5 to 40V input range with (load-dump) protection to 45V and reverse-connection protection to -40V.
The output voltage is adjustable by a pair of resistors (100kΩmin) across 1.5 to 20V – providing there is enough input voltage – and the maximum output current can be set between a few mA and 300mA by another external resistor.
'Vcc' (see diagram) is an output connected to the chip's internal regulated 4.5V rail. It needs a capacitor, and can supply up to 15mA to external circuits.
Connecting the voltage feed-back pin to ground apparently converts the device into a current-limited switch – presumably through the provided output enable pin – the data sheet is not completely clear here, by my reading.
Drop-out is 500mVmax with a 100mA load, and it is stable with output capacitors across 1.2 to 100µF and 1mΩ to 5Ω ESR. PSSR is typically 73dB at 100Hz.
Reverse flow protection comes from including a second p-channel series pass element, controlled by its own circuit, back-to-back with the main voltage regulator p-channel mosfet (see diagram).
The on-resistance of this extra mosfet doubles as the regulator's high-side current-sense resistor, and an additional feature is that it has an analogue output that can provide current information to an external MCU so that it can discriminate between normal conditions, output open-circuit or short-circuit. Via an enable input on the regulator, the MCU can turn on and off this analogue output, allowing the MCU it to multiplex the sensed currents from several similar regulators in to itself though only one of its analogue pins – and the expense of using up digital output pins.
Protections not yet mentioned include: thermal shut-down, under-voltage lock-out, output short-circuit and output short-to-battery, and the output has internal clamp protection against transients from switching off inductive loads. An error output flags some of these states to the host MCU.
Operation is over -40°C to +125°C and packaging is a 5 x 6.5mm 16pin thermal-pad TSSOP.
Another point to TI.
The TPS7B7701-Q1 can be found here, and there is an eval board for the dual version