Called F3L600R10W4S7F_C22, and aimed at for 1.5kVdc inverters, it combines six 950V IGBTs with six silicon carbide diodes for an overall rating of 950V and 600A.
Packaging is the company's recently-introduced EasyPack 4B (below left), now its largest 'Easy'-branded package, and compares with 250kW handled by an earlier EasyPack 3B module aimed at similar applications.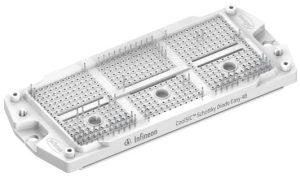 The 4B size has a total footprint of 150 x 62, and is 12.2mm (plus press-fit pins) high. Heatsinking is through the non-pin face, with screw-down attachment.
Inside are three direct-bonded-copper substrates. "Nevertheless, it still features a no-baseplate design, 12mm height, press-fit pins and a flexible pin-out. Easy 4B package will be available for additional topologies, current ratings and voltage classes," according to the company, which emphasised low thermal resistance and optimisation for stray inductance – looking at the data sheet, for the package these are 1.8mΩ terminal-to-chip and 20nH.
Not all devices in this particular module are equal: T1 and T4 (see diagram) are rated at 310A continuous and have 1.35µC gates, T2 and T3 are 320A and 4.1µC, and T5 and T6 are 200A and 900nC,
D1 and D4 are 300A and 950V rated, D2 and D3 are the same, but with lower recovered charge, while D5 and D6 are 1.2kV rated but 160A.
The F3L600R10W4S7F_C22 product page can be found here and the data sheet here