Wood knitting needles are great. High tensile strength, smooth, a bit grippy, lovely feel, and warm to the touch. What's not to love? Here is a guide to the best needles in this durable material.
Read on for more details.
Note: I don't recommend Boye wooden needles, as the materials are low quality, despite the affordable sale price.
I reviewed and updated this post on November 24, 2022.
Table Of Contents
Wooden Circular Knitting Needles
Knit Picks Radiant Fixed Circular Needles
These feature a gorgeous colorway of deep red, orange and yellow and purple, contrasted by black cables. A lovely choice, especially if you like warm colors.
An excellent choice for affordability and strength.
Features
Sizes Available – US 0 -11
Cord Lengths Available – 16″, 24″, 32″, 40″, 47″
Needle Tips Are 5 1/8″ Long
Pros
These wooden circular needles are smooth and affordable, making them a lovely way to knit.
This type of product has nice colors
Range of a lot of sizes available
These items are warm to the touch and the points aren't sharp, so no getting pricked while you work.
Smooth joins, knit snagless needle when knitting a pattern
Cons
Limited size range in the larger cord lengths, however, more options are all available for sale on their website.
Some found the needles split, but these were defective models, and the shop will replace the part for you.
You need good yarn for baby blankets. Get nothing but the best quality with my guide.
Lykke Driftwood Circular Knitting Needles

Check Price On Amazon
Made by a company that works with Nepalese artisans using sustainable, local products, these are great quality needles. Despite the name, these aren't Driftwood, but rather dyed laminated birch with a lovely marbled effect.
Features
Sizes – US 0 – 17
Cord Lengths – 32″ Only
Pros
Inflexible and strong needle tips, so they're good for everything from a knitted lace pattern, trying a new stitch fabric design, to a baby blanket.
The pairs have a smooth, flexible cable
These tools have snagless joins and are warm to the touch
Lightweight and easy on the hands
Cons
A little bit stiffer than other brands available
Not recommended for magic loop sock knitting
Some found they split, but it's very rare, and they are easily replaced at no extra charge
Wooden Interchangeable Knitting Needles
Knitters Pride Dreamz Deluxe Interchangeable Needle Set
A good range of sizes to suit a wide variety of projects, these high-quality needles are smooth, easy to connect, disconnect and use, and are high-quality wood.
Features
Sizes – US 4 – 11 (Metric 3.5 – 8mm)
Cord Lengths – 24″ x 1, 32″ x 2, 40″ x 1
Needle Tips Are 4 1/2″ Long
Notions – Size Markers, End Caps, Cord Keys, and one carrying case
Pros
Good for the magic loop method
Easy and comfortable to use
Super smooth and stitches glide along easily
Doesn't disconnect accidentally
Snagless joins
Cons
Colors are a little bit dull
Some found they broke or snapped
Click to Learn More / Buy from Amazon
Knit Picks Rainbow Options Interchangeable Circular Set
A lovely colorway with all the colors of the rainbow, hence the name. Good range of needle sizes for larger projects and they're functional as well as looking wonderful.
Features
Sizes – US Sizes 4, 5, 6, 7, 8, 9, 10, 10.5 and 11
Cord Lengths – 2 each of 24″ and 32″ lengths
Needle Tips Are 4 – 3/4″ Long
Notions – 9″ x 5″ snapped clear vinyl needle case, eight end caps and two cable keys
Pros
These supplies are smooth and they're great for a beginner.
They're excellent for all parts of the knitting process, including the purl stitch, ribbing, stockinette stitch, selvedge, shaping, decreases, increases, and making a buttonhole.
Snagless joins
It's easy to make an order at this store.
Easy connection system
Comfortable and easy on the hands
Cons
Limited options in cord lengths available, however, you can buy other individual cords separately
Some found they disconnected accidentally, but usually because you didn't screw them tightly
Knitter's Pride Ginger Deluxe Interchangeable Needles Se

Click to Learn More / Buy from Amazon
Another great interchangeable knit needle set from Knitter's Pride, (Knitpro) these are from the Ginger line, also made with smooth laminated birch wood, but dyed a more natural color.
The wood is ethically sourced from sustainable forests.
Features
Sizes – US size 3 – 17
Cord Lengths – x2 24", x2 32", and x2 40"
Needle Tips Are 4″ Long
Notions – 12 end caps, six cord keys, 20 stitch markers, 1 set of magnets, 1 set of cable connectors
Pros
Great range of sizes and lengths, so they're good for the round and flat knitting. They're also light in weight.
This thing is made with high-quality materials
Smooth and stitches glide across easily, including the cast/bind on and cast off rows.
Good grip but not too much, so they're the favorites of many knitters.
Pointed tips, but not too sharp
Cons
LYKKE Driftwood Interchangeable Circular Knitting Needles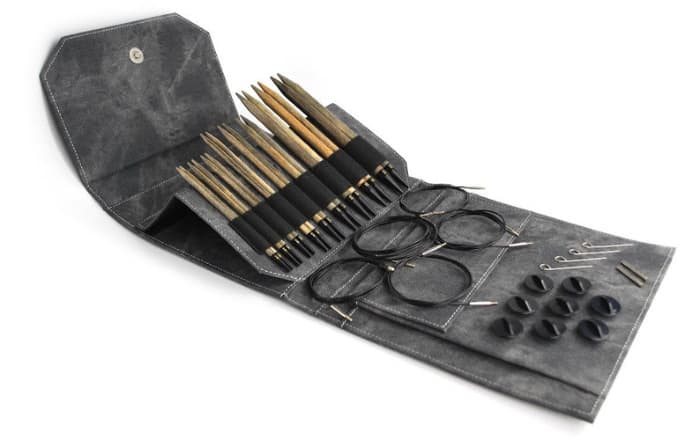 The LYKKE driftwood circular needles, but in the interchangeable form. These are great for a variety of projects, and made with excellent craftsmanship, attention to detail and materials.
Features
Sizes – US 4 (3.5mm), 5 (3.75mm), 6 (4mm), 7 (4.5mm), 8 (5mm), 9 (5.5mm), 10 (6mm), 10.5 (6.5mm), 11 (8mm), 13 (9mm), 15 (10mm), 17 (12mm)
Cord Lengths – x2 24″, x2 32″, x1 40″
Needle Tips Are 5″ Long
Notions – 2 Cord connectors, 4 cord keys, 8 Stoppers
Pros
Comes in an excellent faux black leather case or grey denim case
Fast shipping
Great range of sizes and cable lengths so it's good for testing your gauge before a main project. No snagging the wool.
Excellent customer service
Cons
Wooden Straight Knitting Needles
ChiaoGoo Single Point Wooden Knitting Needle

Click to Learn More / Buy from Amazon
Made with Chinese Rubberwood, a smooth, sustainable Chinese hardwood mostly used in high-end furniture, this type of wood has high tensile strength and inflexibility.
Guaranteed to last a long time, and it's rated five stars.
Features
Needle Sizes – US 1/2.25mm, 3/3.25mm, 4/3.5mm, 5/3.75mm, 7/4.5mm, 8/5mm, 9/5.5mm, 10/6mm, 10.5/6.5mm, 11/8mm, 13/9mm, 15/10mm, 19/15mm
Needle Length – 13″ (33cm)
Pros
Smooth so you can knit in style.
Made with sustainable materials
Strong and inflexible
Good length for a variety of projects
Affordable
Size is laser etched on each needle
Made with environmentally friendly manufacturing processes
Nice tapered end
Cons
Some found they weren't strong enough.
You need an account to purchase these needles.
Wooden Double Pointed Knitting Needles
Knit Picks 8″ Sunstruck Double Pointed Knitting Needle Set
A set of DPNS, perfect for larger projects with more stitches as the length of the needles is 8 inches. Featuring the lovely natural hues and wood grains of birch, these are perfect for darker yarns.
Features
Needle Sizes – US Size 4 (3.5mm), 5 (3.75mm), 6 (4mm), 7 (4.5mm), 8 (5mm), 9 (5.50mm)
Total Needle Length – 8″
Pack Of 5 Per Each Needle Size
Pros
Smooth
Inflexible and durable
Warm to the touch
Stitches glide along easily
Cons
Not suitable for smaller projects, as the smaller sizes for things like socks aren't included
Brittany Double Point Knitting Needles
Brittany is a small family-owned business from the USA that makes their products locally, from locally and sustainably sourced materials.
They care about the environment and the quality of their needles greatly, showing up in the craftsmanship and effort put into the production.
Features
Needle Sizes – US Size 2/(2.75mm), 2.5/(3mm), 3/(3.25mm), 4-(3.5mm), 5/(3.75mm), 6.(4mm), 7/(4.5mm), 8/(5.0mm), 9/(5.5mm), 10/(6mm), 10.5/(6.5mm), 10.75/(7mm), 11/(8mm), 13/(9mm)
Needle Length – 10″
Pack Of 5
Pros
Longer double pointed needles for a wide variety of projects
Made with great attention to detail and care
Affordable
Sustainable
Smooth and inflexible
Warm to the touch
Made in the USA
Comfortable
Cons
Some found they broke after not very much use.
Click to Learn More / Buy from Amazon
Knitter's Pride Dreamz Double Pointed Needle Socks Kit

Click to Learn More / Buy from Amazon
Made with smooth laminated birch in a variety of lovely colors, (a different one for each size) these are an excellent value pack and great for knitting socks.
Features
Needle Sizes – US 0, 1, 1.5, 2, 2.5, 3
Needle Length – 6″
Pack Of 5 Per Needle Size
Pros
Great value
Excellent for socks
Smooth and inflexible
Durable
Great for slippery yarn as they have a bit of grip
Cons
Needle sizes are printed on the needle, but they wear off after lots of use
Need to be careful with the smaller sizes as they're a bit fragile
50mm Wooden Knitting Needles

Check Price On Amazon
A great option for giant knitting projects. Think of all the chunky blankets you could make in a short amount of time!
Features
Diameter of the needles – 50mm
Pros
Smooth polished wooden surface
Durable
Cons
Due to their size, they would take some getting use to
Not suitable for knitters experiencing hand pain
Some found these tools rough
Comparable Products To Consider
Addi also has excellent wooden needles for hand knitting. Or, try looking on Etsy, where you'll find a selection of antique, old-fashioned, upcycled, fancy, carved or medieval-inspired needles.
Many of them offer pretty packaging for gifts when you make an order, so they'd make a nice present!
FAQ
What Wood Are Knitting Needles Made From?
Usually wood needles are made with birch, and rarely, ebony or rosewood. Though some consider bamboo a wood, it isn't, it's a large grass. So bamboo knitting needles aren't wooden needles.
How To Make Wooden Knitting Needles Slicker
You can use wax, specifically designed for needles. Here's an excellent tutorial on how to make a pair of wooden knitting needles slicker with wax, by Yay For Yarn on Youtube.
It's important to care for your accessories so they last!
How To Make Wooden Knitting Needles
Ever wanted to try to make your needles? Here's a simple, easy tutorial for inspiration on how to make DIY wood knitting needles by Pleasant Seas on Youtube.
What Are Wooden Knitting Needles Used For?
All sorts of situations and projects, but the general reasons and projects wooden knitting needles are used for are as follows –
For beginners, because they're gripper than metal needles
For slippery yarn
For those who have hand pain or strain, many reported finding them more comfortable
And many more reasons. You can use them for almost any knitting project you choose.
How To Clean Wooden Knitting Needles
Here are a few tips on how to clean wooden knitting needles.
Don't scrub or wash them
Polish them with a clean, slightly damp cloth and then dry, and with a clean, dry cloth wax them with needle wax.
What Wax To Use On Wooden Knitting Needles?
An excellent choice of wax to use on wooden knitting needles would be Brittany Knitting Needle Wax.

Click to Learn More / Buy from Amazon
Which Are Slipperier Wood Or Metal Knitting Needles?
Metal is much slipperier than wood, because the metal is polished to be super easy to slide the yarn across, great for speed knitters.
Hopefully, this post helped you find all you needed to know about wood knitting needles, and which product would be the right for you. There are many choices available. You're sure to find something to suit you best.
Pin For Later
Do you like or dislike wood over other materials knit needles are made out of? Why? I'd be interested to hear your thoughts.